Filter by Category
Our Classes
Preschool to Pre-kindergarten Pflaum Gospel Weeklies at-home, parent-led
with Karyn Monroe

Oct 1, 2022
Preschool and Pre-Kindergarten (3-5 year olds) curriculum will only be offered as an at-home option. There is no in-person option available this year for pre-Kindergarten and younger in 2022-2023. 
Emmaus Catholic Parish is privileged to support you as you help your child grow in love and understanding of God and the richness of our Catholic faith. Thus, the options we offer for your child's Faith Formation seek to supplement the essential work you are already doing.
Our Faith Formation Program strives to help your child grow in both knowledge and love of God and deeper awareness of the importance of community and service in the life of a Catholic.
The Preschool-Kindergarten curriculum will be from Pflaum Gospel Weeklies and will be completed as a family at home.
Learning units are sent out 4 times throughout the year. Pick-up will be at the parish office. Weekly handouts correspond with the Sunday readings in church.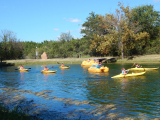 Journey Retreat Oct 22nd-23rd
with Julie Sawyer

Oct 22, 2022
Join us at Camp Buckner for a weekend of fun, adventure, reflection, inspiration, spirituality, & community!
We will travel by bus the morning of Oct 22nd to Camp Buckner in Burnet and return mid afternoon on Oct. 23rd.
Adult chaperones are needed to make this trip happen. Contact Julie for more information. 
Required permission form submitted to Journey@emmausparish.org is available at https://www.emmausparish.org/journey 
Confirmation (year two) + Outcry Wednesdays and Sundays
with Casey Cotton

Feb 1, 2023 at 6 pm
**THIS REGISTRATION IS FOR TEENS THAT HAVE NOT BEEN CONFIRMED AND WILL ENROLL IN CONFIRMATION PREP CLASSES INCLUDING OUTCRY**
*This registration is for both Outcry and Confirmation year 2.*
Welcome to Outcry 2022/2023!! 
Confirmation candidates will attend Outcry every Sunday as well as Confirmation Prep Classes On Wednesday Nights.
Sunday

Life Night

starts with 5pm mass, dinner for the teens and then a great night of learning and fellowship.  The night concludes at 8PM in the PLC Youth Space
Confirmation Classes Will Start in Febuary, 2023
Outcry is honored to assist the essential work you as parents are doing at home to enrich the lives of your teens and to deepen their relationships with God. Our youth play an ESSENTIAL role in the Church and as such, we do not take the importance of their formation lightly. It is our goal to ignite a burning love for God and His Church in the heart of every child who steps through our doors. 
*For students preparing for confirmation (year two), registration for both Outcry and Confirmation will be required.*
Save the date:
September 11th - Parent Orientation 
September 11th - Classes begin
 Full calendar can be found at www.emmausparish.org/outcry.